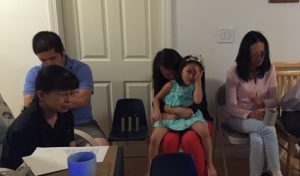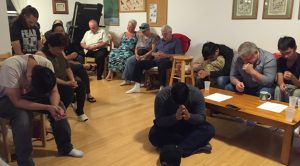 Our Adult Family group called F.U.N. Fellowship (Families United in His Name) meets every 3rd Saturday of the month at either George Ang's home at #4 Curran Rd., Cumberland, RI or PNelson's apartment at #501 Roosevelt Ave. Unit 103, Central Falls, RI. FUN Caters to adults and families who seek fellowship and spiritual growth. Our gatherings involve a potluck dinner and bible study. This year, our topics for discussion involve materials from Wired Word, a weekly write up on relevant issues happening around the globe and then paired with biblical passages and principles. We end each gathering with a group prayer. For more info, please email George Ang at george.ang@3ds.com. We are happy to see more families to join us.

Cell group. This is the group where we encourage new adult attendees to join for fellowship.  This cell group gathers 2 times per month (skipping the third week for FUN Fellowship Saturday meetings).  We meet on a Wednesday, from 5:30 pm-7:30 pm at host homes.  This group also takes on Wired Word for topics and discussions.
2017 Adult (FUN) Fellowship Topics for Study and Schedule.
The adult fellowship will use the videos of Louie Giglio.
January
21              New Year: God Is For You.
February
18              New Year: You're Part in His Plan.
March
18              Grace: The One and Only – Two Impossibilities – One Story.
April
15              Grace: The One and Only – Not Ashamed.
May
20              Grace: The One and Only – Full Pool
June
17              Grace: The One and Only – The Gospel According to Tupperware
July
15              Grace: The One and Only – Work It Out
August
19              Prayer: Remix – Who's Blessing Whom?
September
16              Prayer: Remix – Supernatural Life Inside
October
21              Prayer: Remix – The Prayer God Always Answers
November
18              Moved By Mercy
December
21              The Twelve Days of Christmas
Blog/Announcements