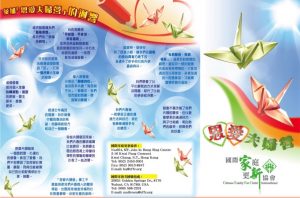 时间:2017年4月7日-9日 (周五至日)/  地点: Manchester, NH  /  报名:中文堂传道部吴海玮姊妹、翁绮霞姊妹
"The new family" of the "loving couple camp" is based on the world's best marriage treatment and reconstruction of the basic elements of marriage, integration of Chinese culture, marriage and family's unique colors and power, and then after more than 20 years in the world among Chinese Try to prove a valid training course. When the people of marriage and family, at an unprecedented rate of collapse, collapsed, when the Chinese church in the face of more and more followers of the breakdown of marriage, how to prevent the disease, healing trauma, back to life, it is imperative to be imperative. The loving couple camp aims to build and consolidate the couple's loving relationship; help couples to promote communication with colleagues.
purpose:
In the three days and two nights of the camp, no matter of the winding, concentrate on and spouse together, so that the couple in the marriage life can achieve the following objectives:
The truth of marriage in the Bible, the truth of the relationship between couples through vivid practical examples to help the couple to implement in their lives.

The results of human behavior scientists and marriage and family experts and treatment experience, with easy to understand the way to help couples, toconsolidate their marriage.

Provide proven ways to help couples, promote communication, resolve conflicts, increase love, and work together.
aims:
Raise participants' awareness of themselves and their spouses.

 

Emphasizing the strengths and advantages of relationships between individuals and couples, and the potential for growth.

Establish the direction of the relationship between the couple.

Learning and practicing effective communication, and problem solving skills.

Learn the skills that can foster positive growth.

Enhance the couple's intimacy and empathy.